Do's & Don'ts of New Construction
Posted by Kim Devlin on Friday, August 18, 2023 at 11:51:08 AM
By Kim Devlin / August 18, 2023
Comment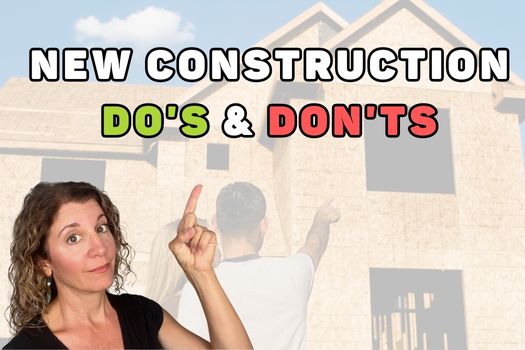 If you're on the lookout for a brand-new home, then you're in for an informative ride. In this piece, we'll be delving into the ins and outs of purchasing a new construction home, equipping you with the knowledge you need before making any decisions.
The Allure of Fresh Beginnings There's an undeniable appeal to owning a home that has never been lived in. The opportunity to shape your living space according to your preferences is a powerful draw. From choosing the perfect flooring to selecting countertops and cabinetry that match your style, the creative freedom that comes with new construction is unparalleled. Moreover, these homes often come with modern layouts and energy-efficient features, which not only contribute to your comfort but also promise long-term savings. The icing on the cake? The warranties that typically accompany new construction homes, offering both short-term and long-term coverage.
Key Considerations for Your Search When embarking on the journey of finding a new construction home, several crucial factors demand your attention. Location tops the list. Beyond the home itself, your surroundings play a vital role in your overall satisfaction. Research the neighborhood's amenities, proximity to essential services like schools and shopping centers, and any nearby recreational spots you hold dear. It's wise to evaluate the quality of local schools, particularly if you have children or plan to in the future. Additionally, don't overlook your daily commute to work, as it can significantly impact your daily life.
Spotting Warning Signs While the prospect of a new construction home is exciting, it's essential to be vigilant for potential red flags. Investigate the reputation and track record of the builder, paying special attention to online reviews. These insights can shed light on potential issues, such as delays or difficulties with warranties. Engaging with current homeowners in the community can provide invaluable firsthand experiences. When dealing with builder agents, exercise caution, as their motivations might not always align with your best interests. Thoroughly reviewing contracts before making commitments is a must to avoid unpleasant surprises.
Leveraging the Expertise of a Realtor Having a knowledgeable real estate agent by your side can significantly simplify the process. A realtor specializing in new construction homes can guide you through every step, from choosing the right builder and community to understanding financial aspects like HOA fees. Their experience with different builders and their understanding of the local market can save you time and stress. Remember, while builder agents are skilled at selling, they ultimately represent the builder's interests. A realtor, however, is your advocate, ensuring your needs are met.
Navigating the Path Forward Armed with this information, you're well-prepared to embark on your journey toward owning a new construction home. Whether you're exploring options in St. Johns County, Florida, or elsewhere, these insights will serve as a valuable compass. For more specific tips, be sure to check out our video on design center pointers. And if you're seeking further guidance, our relocation guide is just a click away. Thank you for joining us on this educational adventure. If you have questions or suggestions for future topics, please share them in the comments. Stay informed, stay inspired, and we look forward to accompanying you on your home-buying journey.
If you're ready to take the next step, don't hesitate to reach out to us here. Your dream home awaits!